A community of bloggers who live and die to DIY
Advice for Creating a Sustainable Garden
Advice for Creating a Sustainable Garden
Many love the idea of planting a garden; however, there are some of us who need specific information and help before beginning such a project. Having your own garden can be quite beneficial because you can save money and grow food that you know is safe and good.
The first thing that needs to be done is to decide where you want your garden to be. You should also check out the kind of soil you have and what kinds of nutrition you may need to put into the soil. Your soil may be more nitrogen, potassium, sulphur or magnesium. You can get your soil tested by contacting your local county extension service office or by contacting a local nursery.
It is important to find out if your soil is loamy, sandy or heavy clay. Some improve their soil by adding several inches of organic matter to the top six to eight inches of the soil. Organic matter can be compost, peat moss or manure. You also need to find out your hardiness zone. This means if you are in a short and cool summer zone or in a southern climate with long, hot summers. You will also need to find out your first and last frost dates. This will help you when planting and let you know how long your plants will survive. Sunlight is also very important because what you'll be growing will need a certain amount of sunlight to grow and prosper and various plants need different hours of sunlight.
In addition, you may want to consider using topsoil to [make a raised bed]. This is a good idea for some because the raised bed will keep your garden enclosed and will make it easy to plant and weed your garden. This is especially helpful for those who have back problems or arthritis, it also works well in a garden where children will be 'helping' with the planting and harvesting.
http://www.gardenersworld.com/how-to/projects/creative-projects/how-to-build-a-raised-bed/271.html 
You may also want to get a water butt set up as water hosepipe bans have become more common in the UK and using water in your garden can be frowned upon in general where water is in short supply. A water butt can be a brilliant way to harvest your natural water supply and keep it for where you need it most. There are water butt which can connect to your guttering and collect the rainwater from a building's roof and store it which would mean you would have a great supply for your garden whether there's a hosepipe ban or not!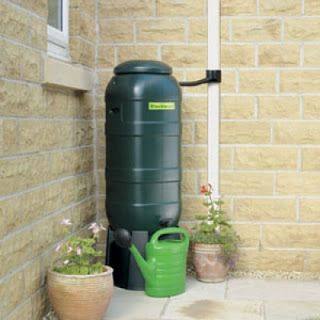 The next thing to do is buy some seeds. Always buy quality seeds because you want your seeds to succeed and buying cheap often gives poor results. Crops that are easy to grow are peas, beets, onions, lettuce, cucumber and rutabaga. Corn and pumpkin are harder to grow and take up a lot of space. When doing some weeding, be careful not to accidentally pull out your plants. Use caution and take your time when weeding. Some have put around a wire garden to keep deer, foxes and rabbits from getting in. There are also people who come in a take food like watermelon, vegetables and squash away. In addition, insects can be a problem in a garden; however, if you space out your vegetables carefully, insects should not be a problem. Weeding and fertilizing can also prevent insects from invading and can prevent disease.
You can also use the cutting off your vegetables along with weeds to create your own compost to help fertilize your garden. Composters are very easy to create or buy and mean you will have a complete cycle in terms of growing your own crops and creating your own fertilizer. Many use fertilizer to help keep their plants growing in a healthy way. Always harvest your garden when everything is ripe and enjoy the fruits of your labour.
Sustainable does not just mean to grow your own food and create your own compost and water supply, it can go as far as your energy too. If you are going down the green route in your garden finding solar powered features rather than electrical, adding your own wind turbines if you have the space to collect the natural energy of the wind or solar panels on your home can also be great ways to live in a sustainable way.
Any of these changes made within your home and garden would be an awesome achievement both personally and for the planet.
Ewan Michaels enjoys gardening in his spare time and believes that sustainability is a necessary part of our future. He currently works for UK Water Features who are a [wall water features provider].
http://www.ukwaterfeatures.com/Shop/Water-Features/Style/Wall-Hanging.html
blog comments powered by

Disqus