A community of bloggers who live and die to DIY
DIY Garage Storage Cabinet
Chris has been jonesing to upgrade the red storage bookcase in the garage


As you can see, it's very full. And because it's so full and not really designed for tools to go on it, accessing everything is a bit difficult. We can't see all the stain we have, we can't find spray paint we want, there's not enough room for everything, etc. I designed a plan for the cabinet about 2 months ago, but we've been busy with lots of other building projects (hello beautiful entertainment unit) so Chris took the opportunity this past weekend to hop back on the building train. We don't have too much left to do in the TV room to get it finished, so taking a breather to make our tools and materials more accessible was a welcome break.

The plan got modified a bit


But Chris made a cut list and it was smooth sailing


The plan we designed maximized as much storage as was available. The bottom 3rd will have 2 shelves that are about 2 feet deep and will house car stuff we don't use very often and anything that's exceptionally large. The garage footer will cut into the bottom shelf a bit so we needed to make the very bottom shelf a bit less deep to accommodate the 12 or so inch high footer


To maximize the available depth of the top 2/3rds of the cabinet (about 18 inches) we designed the cabinet to have a large door with a piano hinge that will have storage on the front and back. So instead of having one 18 inch deep deep shelf (which makes finding stuff and sorting through it all difficult) we'll have 3 separate, less shallow shelves.

Once Chris had the main frame built (I was working on purposefully killing our front lawn) it was time to clear off the old cabinet


And sort things in like groups


And then the new cabinet went in


Once it was in place I started putting things back in an organized fashion. The bottom shelf for the cars


And moving up, the next was for big stuff


The 3rd for strippers, abrasives and cleaners


The 4th for patching


The 5th for poly and sealers and the 6th for stains


While I was organizing Chris was finishing up building the door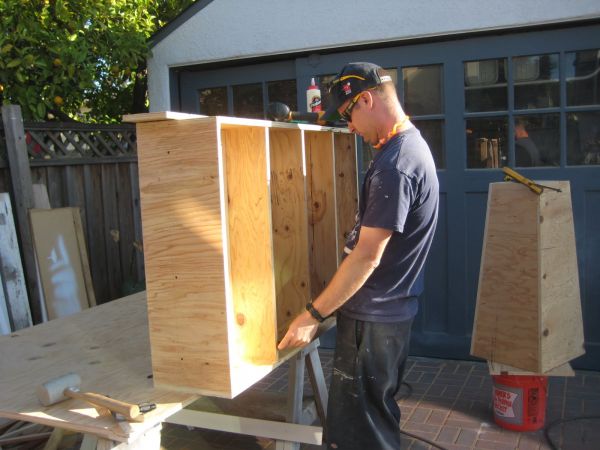 At that point I headed in to make dinner and Chris worked on modifying the door a bit to get it ready to be installed and I got a text from him saying "want to come see?"


Well that's pretty fucking awesome :)

With the door installed I organized the last of the spray paint, glue, etc. yesterday morning


I kept it all spread out because we had plenty of room and it could be organized by primer, plastic spray paint, finishes, etc.

The cabinet still had plenty of room so I sorted through some of our paint that's a bit disorganized too


I took the quarts that we don't use very much


And they got tossed up on the top shelf of the cabinet. The last step was finding a bin to store our rags in


And then...


Beautious! :) And a huge improvement over this


Not too bad for a weekend. And it makes us happy to get something else checked off our "things we need to build" list. Nice.
blog comments powered by

Disqus