A community of bloggers who live and die to DIY
Best $15 I Ever Spent
We were so anxious to get moved into the house that we sort of neglected a few key items.  Namely, window coverings.  It wasn't a big deal for most of the house since we don't have any neighbors to spy on us but it was an issue in one area – Junior's room. 
We try to have him in bed around 8:00, but it doesn't get dark until closer to 9:00 and getting him to fall asleep while it's still light out is like getting me to do cardio.  Ain't gonna happen.
I realized our boo-boo the first night we stayed there.  We didn't want to be nailing sheets into our brand new frames so I did the only other sensible thing.  I covered them with trash bags.
Oh, that Amy!  She expects us to believe she taped trash bags up in her windows!
Boom.
I've been very wishy-washy about how I want to treat his windows, so the poor thing has lived like this for the past 6 weeks.  Mother/decorater of the year over here.
Anyway, as I was strolling through Walmart the other day, three little words caught my eye.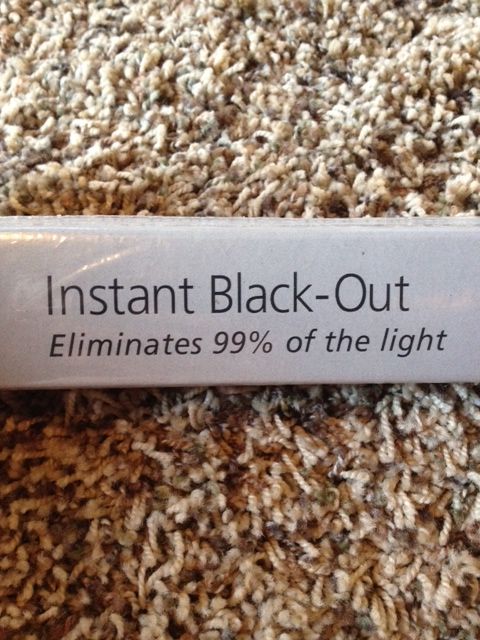 I stopped dead in my tracks.  Could this be the answer to my prayers?  $5 blinds from Walmart?  Surely not.  But I decided that $15 was worth a try so I took them home.  D installed them and the process could not have been easier. 
They are papery, so you just measure the width you need and cut off any excess.
These don't screw in.  They stick in.  So just expose the adhesive and press.
 Then smooth them down.
 They come with fancy little clips, so when we don't want to block out 99% of the light, they are easy to fold back up and you can't even tell they're there.  So I'm still free to decorate the windows however I'd like!  Win!
About the time I realized I should take a picture of the brand of shade is about the time Junior realized what was happening.
Junior: "They're doing this so I'll go to sleep earlier!  Oh heck no!"
And he absconded with the other two.
But really, when we got all three installed we were completely giddy impressed with how effectively they blocked out the sun.
Since they are black, they work perfectly with his trim.
And we all slept like babies last night!
blog comments powered by

Disqus